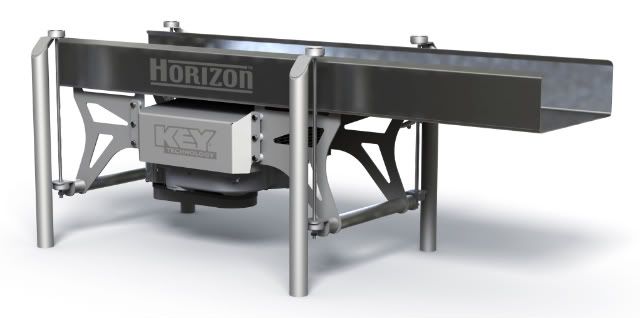 Key Technology has launched HorizonTM, a new horizontal motion conveyor that features a unique maintenance-free mechanical drive.
Offering gentle, quiet, and sanitary horizontal motion conveying, Horizon is ideal for many fragile, seasoned, coated, and frozen food products. Its drive is powerful and efficient, capable of moving product at speeds up to 42 feet (13 meters) per minute on a single continuous conveyor up to 100 feet (30 meters) long.
"With the addition of Horizon, Key now offers a one stop solution, providing food processors a wide range of vibratory and horizontal motion conveyors that satisfy nearly every conveying need," said Steve Johnson, Product Marketing Manager at Key Technology. "With Key's comprehensive material handling product line, engineering expertise, and line integration services, we can create the ideal conveying system anywhere in a processing line from raw product receiving to packaging distribution."
Key designed Horizon with a mechanical drive that maximizes reliability and offers long equipment life with minimal maintenance. The lube-for-life drive, which is backed by Key's industry-leading five-year warranty, provides trouble free operation and can be used with different pans to keep running year after year, delivering a low cost of ownership.
Horizon maximizes product quality with gentle handling and clean operation. Minimal vertical product acceleration reduces breakage and seasoning loss, making Horizon the preferred choice for conveying delicate, coated, dusty, or noisy products. The horizontal motion produces a continuous self-cleaning action, preventing buildup of coatings, oils, or seasonings as product slides along the pan. The sliding action also prevents mixing and size separation of the product. The entire conveyor system, including the drive, is in motion, which reduces the chance of buildup that can accumulate on stationary components. Limited flat surfaces, stainless steel construction, and wipe down friendly design improve sanitation.