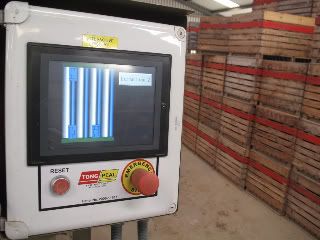 Tong Peal has added a suite of technical advancements to its 2011 range of machinery.
The UK's leading designer and manufacturer of handling and sorting equipment for the vegetable industry is now offering touch screen controls, memory settings, email or text alerts and remote diagnostics across its range.
Improved efficiencies, reduced down time and ease of use are at the heart of the optional extras.
"Traditional 'stop and go' controls are still offered on all machines, but there are considerable advantages to embracing our new technology-driven options," says Edward Tong, operations director at Tong Peal.
As well as touch screen control, Tong Peal's control system now allows operators to store settings in the machine's memory. The speed and direction of rollers and conveyors can be changed at the touch of a button to any combination of pre-determined adjustments, programmed for specific crop conditions and cleaning requirements. With standard controls users would need to manually adjust each component to change settings whereas with touch screen technology, users can simply set the machine once and store that particular combination.
There is no need to worry about settings being changed accidently, as Tong Peal has improved the management system within the control panel with password protection meaning only designated users can alter the machine's settings.
Tong Peal is also offering remote diagnostics as an optional extra. "In the unlikely event of a fault occurring on the machine, if it is fitted with our remote diagnostic module, our technical team can remotely access the control panel to assist with tuning, make adjustments, reset it completely or identify the problem so an engineer can go out to the machine to resolve it if necessary. The big savings here are of time and money, as remote access should see us resolving issues even more quickly than we do now."