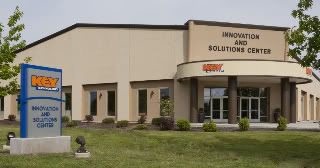 Key Technology announces the opening of its new customer visitor center - The Innovation and Solutions Center - in Walla Walla, Washington, USA.
This state-of-the-art facility is designed to create a superior customer experience while effectively demonstrating and testing Key's sorting, conveying, and processing solutions to food processors, both in-person and remotely via a live video interface.
With multiple demo labs, the new 31,500 sq ft (9,600 sq meter) facility comfortably accommodates numerous customers simultaneously for equipment demonstrations, application tests, and training, which allows customers more flexibility in scheduling their visits.
The Innovation and Solutions Center showcases several Key sorters including Optyx®, Manta®, Tegra®, and VeoTM, as well as a variety of Key conveyors such as HorizonTM, Iso-Flo®, and ImpulseTM, in addition to non-Key equipment that helps simulate working production lines. The equipment is configured to create continuous processes that imitate the customer's production environment more effectively than performing tests in batch mode, giving the customer a more accurate assessment of how the equipment will perform with his product in his plant.