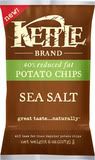 Kettle Brand, a pioneer in the batch-cooked, all natural potato chip category, is bringing its most popular flavors to a new reduced fat potato chip that delivers signature bold flavor and hearty crunch, with 40 percent less fat.
Surprisingly indulgent at only 130 calories per serving, the new line extends the brand's unwavering commitment to innovation and natural ingredients to one of the fastest growing snack categories.
The first flavor in the Reduced Fat line-up, original Sea Salt, is already making its way onto store shelves. Sea Salt & Vinegar and Salt & Fresh Ground Pepper, two of the brand's most popular flavors, will be added later this summer. Sea Salt & Vinegar Reduced Fat will debut on a Krinkle Cut(TM), answering consumer requests to pair the robust flavor with a hearty, ridge-style chip. It will be the only all natural, reduced fat, thick ridge-style chip on the market. Salt & Fresh Ground Pepper, already a best seller on a Krinkle Cut(TM) chip, will be offered for the first time as a reduced fat option in the traditional style chip.