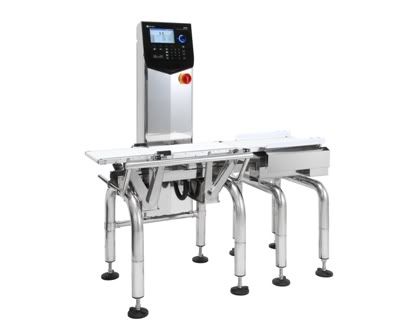 The Ishida Europe stand at this year's PPMA Show will showcase the latest developments across the company's extensive product portfolio, all of which help to deliver excellent accuracy, improved efficiencies and maximum throughput for a wide variety of applications.
Highlights include two new checkweighers, an entry-level X-ray system, Ishida's innovative Strip Pack Applicator for enhanced in-store presentation, and multihead weighers capable of handling root vegetables and citrus fruits, fresh, sticky products and frozen foods.
The DACS-G is the latest addition to Ishida's checkweigher range. The new model is capable of exceptional speeds while maintaining high accuracy, and, at the touch of a button, can switch between two weighing ranges, allowing food manufacturers to handle more products on one machine. A unique Dislocating Force Limiter automatically disconnects the weigh sensor from the weigh conveyor should sudden excessive force be applied (for example during clean down), protecting the DACS-G against rough handling.
Also on show will be the DACS Economy checkweigher, which is waterproof to IP65 specification for fast and easy cleaning. This entry-level model incorporates Ishida's unique Anti Floor Vibration (AFV) system, Ishida-made high-sensitivity loadcells and high-speed Digital Signal Processing (DSP) for high weighing accuracy and -consistency at high speeds, as well as a key pad display for simple operation.