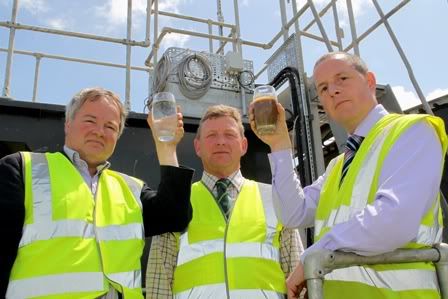 Potato company Branston Ltd has installed a £1 million water recycling plant at its Ilminster site - and is already reducing its mains water usage by thousands of litres a day.
Branston, the UK's leading buyer and packer of potatoes, has installed the water recycling plant and chilling system as part of its continuing commitment to the environment. Since the plant's installation, Branston is already saving 41 cubic metres of mains water every day - the equivalent of 230 baths or enough water to fill a large swimming pool.
Ian Wait, general manager at the Branston site, said: "To wash potatoes which come into the plant from local producers, we were using a mix of borehole and mains water. This topped around 79 cubic metres each day - so we decided to look at the way we used water on site and how we could reduce our mains water usage.
"By working with several local agencies, we have successfully created a water recycling unit which, after just a few months of being up and running, is reducing our mains water usage by an incredible 52%.
"Not only that, but the plant has a specialised chilling system which keeps the water at 8 to 10 degrees Celsius which is the ideal temperature for washing potatoes."