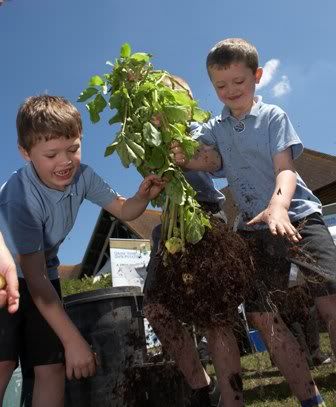 The UK potato industry is being encouraged to get behind two educational projects from Potato Council, to ensure that potatoes continue to feature in the daily lives of the nation.
Grow Your Own Potatoes, which is now in its eighth year, is one of the most popular growing projects for key stage 1 and 2 pupils at Primary Schools.
Over 12,000 schools have already signed up to participate but Potato Council is aiming to increase numbers before registration closes in February.
Sue Lawton, education co-ordinator for Potato Council, said: "The project has been one of our biggest campaign successes, bringing potatoes to life for over one million pupils to date. For 2012, each school will receive a newly designed presentation box, which contains everything they need to chit, plant, grow and harvest two varieties of potatoes.
"We're delighted to have eight seed potato suppliers working with us again this year, donating free seed potatoes to schools throughout the country, which means every region has a different variety to grow. This support is crucial and we're also asking that growers, packers and suppliers help by bringing the project to the attention of their customers, friends and relatives. We have a new generation of teachers and children in the classroom since the project started, so we need to keep getting the message through to schools and help them discover the wonders of potatoes."
To request literature or for more information about the educational projects, contact Sue Lawton on 02476 478 774 or email This email address is being protected from spambots. You need JavaScript enabled to view it.,org.uk.